Third grade library classes have been learning about the benefits of reading graphic novels. Graphic novels help students build vocabulary, improve comprehension, and learn about story elements. Readers are also motivated to read more when they have access to graphic novels and comics. Graphic novels require readers to pay attention to both the illustrations and the text. Readers also infer and make connections as they read graphic novels.
Students watched part of this video from Capstone, which shows how graphic novels are created.

The Comic Book Legal Defense Fund has created a resource for parents that explains how graphic novels can help your children become better readers. http://cbldf.org/wp-content/uploads/2015/11/RaisingAReader2015sm.pdf

May 7th is Free Comic Book Day. Visit a local comic book store and receive free comic books.
http://www.freecomicbookday.com/Home/1/1/27/992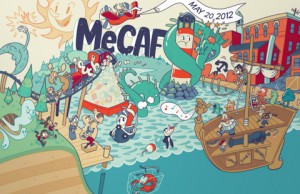 Mark your calendars for the Maine Comics Arts Festival on Saturday, June 4th at the Portland Public Library. It's free, and it's a great family event.