Uncategorized
No Comments »
It's December, and that means it's time for Falmouth Elementary School's 2nd annual Mock Caldecott program. All students in grades K-5 will read the same six picture books in library class and in their classrooms. The books were all published in 2013.
The Caldecott Medal is award annually to most distinguished picture book. Classes at FES will look at the books using the Caldecott criteria, and they will discuss books using the art terms: space, color, texture, line, shape, and medium. Last year students and teachers enjoyed reading, discussing, and comparing the Mock Caldecott books. Students at FES chose Extra Yarn as the winner of our first Mock Caldecott Award, and we were all pleased when it won a Caldecott Honor.
Students will vote for the book they think should win the 2014 Caldecott Medal on Thursday, December 19th. The winner of our Mock Caldecott Award will be announced at school on Friday, December 20th. The winner of the actual Caldecott Medal will be announced in Philadelphia on Monday, January 27th.
Mock Caldecott Nominees
The Dark by Lemony Snicket and Jon Klassen
Book Trailer for The Dark
Journey by Aaron Becker
Book Trailer for Journey
Mr. Tiger Goes Wild by Peter Brown
Peter Brown introduces Mr. Tiger Goes Wild
Mr. Wuffles! by David Wiesner
Book Trailer for Mr. Wuffles!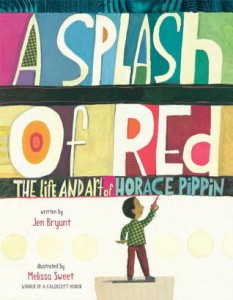 A Splash of Red: The Life and Art of Horace Pippin by Jen Bryant and Melissa Sweet
Visit the web site for A Splash of Red: http://asplashofredbook.com/
You're Wearing That to School?! by Lynn Plourde and Sue Cornelison